Benefits Of Quartz Shower Trays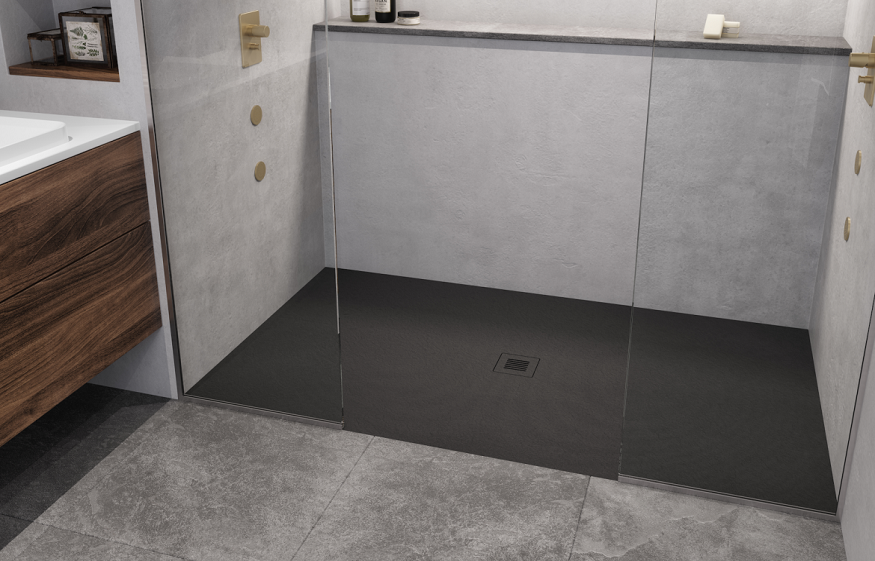 A shower tray is integral to the shower enclosure since it guides water flow to the bathroom's drainage outlet. You must choose the ideal item that is durable and well-built. Installation is also crucial. If the shower tray placement is subpar, the shower tray's grade won't matter. 
Shower trays are a stylish solution to divide wet and dry spaces readily incorporated with bathroom flooring. The Quartz shower tray comes in various configurations, including room-saving corner options. Unlike porcelain or genuine stone, these minimal care shower trays never seem worn out. Its smooth, non-slip surface doesn't collect trash or soap suds. So, because solid construction is impervious to water and inhibits the formation of bacteria, viruses, moulds, etc., it provides the most sanitary option for shower areas. Let's look at some short suggestions for selecting the best shower tray for the bathroom.
1. Size
Before moving on to material, it's vital to consider the size of both shower trays. Water will pour out when the tray is the wrong size since it cannot contain the entire water. The bathroom will then leak water, which will cause mould development, a frequent sign of water damage. If you don't catch the problem straight away, this will eventually result in costly repairs. Moreover, mould development might harm your health. Therefore, it is crucial to get a shower tray that is the proper size.
2. Shape
Your shower trays must be a perfect match for water to stay entirely within the shower surround. The form of the tray affects how precisely it fits. Various shower tray forms are appropriate for multiple bathroom sizes. A few of these shapes include:
Square Tray complements a variety of door types beautifully. While the squares tray's regular size is 900mm, it is often offered in variations with diameters between 700 & 1000mm.

A rectangular tray is frequently more extensive and roomier than just a square tray. Some rectangular trays include sliding doors, which remove the need for an opening. The tray is perfect if you want extra room to roam in the shower.

Quadrant Tray, which has a curving front, fits well in corners, and its distinctive form produces a luxurious bathing area. The quadrant trays save crucial bathroom space because sliding doors & hinged doors work nicely together.
Different Tray Shapes

:

If the bathroom requires a shower tray shaped differently, don't worry. Other unconventional forms are available for selection, and the most prevalent shower tray forms are P- & D-shaped.
3. Subject
The shower tray's colours and construction are crucial. A regular bathroom may become beautiful thanks to these two elements. Every substance has positives and negatives. Among the most popular materials are:
The Stone Resin Showers Tray is sturdily designed. Chopped stone & resin were used to create this tray. The mixture is added to a mould and left to solidify. After that, a gel coating of protection is sprayed onto the tray. They were built with a non-slip feature as well. The only drawback to the stone resins shower tray is that specific versions are hefty.

Ceramic shower trays are inexpensive and robust and are also stain-resistant, similar to a bathroom sink. The drawback of ceramic shower trays is that they feel weighty and chilly. Stone resin offers a quicker production process, and thus manufacturers choose it over ceramic.

There are several sizes and forms available for acrylic shower trays, also simply ABS shower trays. They are inexpensive and straightforward to install, much like ceramic. Due to its relative flimsiness, this material is not often preferred.

For a premium appearance, the Acrylic Capped Showers Tray combines a resin tray's robust sturdiness with a coating of fashionable acrylic sheeting.
The most expensive shower tray is, without a doubt, the Marble Shower Tray. Any modern bathroom design will look great with classic marble. However, the weight and cost of tiled marble trays are its two main downsides.
Search Online For Your Shower Tray
A variety of shower trays are available, including the Quad Showers Tray, Ultra-compact 25mm Shower Tray, Rectangular Shower Tray, Square Shower Tray, Inverted Quad Shower Tray, & Designers Shower Tray. However, it would help if you first took measurements of the bathroom before you started looking for a showering tray. Next, choose the correct form and fit for the shower enclosure. After that, you may consider the ideal material for building your desired bathroom glass walk-in shower. The procedure takes a lot of time, but the outcome is worth it. You can get a large selection of Quartz shower trays in various materials, including stone resin, porcelain, acrylic, marble, and much more. You can rely on the selection of quartz shower trays online & shower bases to create a feel and appearance for any shower, whether you'd like to enter the shower by stepping up or you desire the bathroom to transition into the shower installation seamlessly.
Here Are The Top Advantages Of A Showering Tray And Why You Need One.
Leaky Pipes Are A Significant Inconvenience.
Whether you have a rectangular or square shower tray, the shower tray's essential function is to stop water leaks. Water will flow where there is the least resistance because that is just how it is; once it finds that course, it is tough to stop. Water is guaranteed to flow in the proper direction by a shower tray. In actuality, the shape of shower trays, particularly rectangular ones, is intended to control water flow. Utilizing the laws of physics to their advantage, the tilt of a shower tray guarantees that the water rapidly drains.
Installing Them Is Simple
.
Due to space restrictions, existing plumbing and electrical infrastructure, and building codes, bathroom constructions are sometimes challenging. Shower trays came in various sizes, forms, and models and were created with simple installation in mind. With so many different shower trays available, it seems improbable (if not impossible) to find a suitable shower tray for everyone. There are undoubtedly shower trays that meet your demands and are simple to install, no matter the type, style, or price range.
You Save Both Time & Expense.
Installing a shower tray that meets your demands is far more practical than rebuilding your entire bathroom and at least a significant section to accommodate the shower demands. This not only reduces time and labour but a substantial sum of money as well. In addition to being fashionable and valuable, it is also affordable.
It's essential to ensure you're able to complete your tasks with the fewest possible inconveniences; in this situation, ensuring you can have a leisurely shower without worrying about the rest of your bathroom. As was already said, your shower tray provides a plethora of advantages.