How to Use AC During Covid-19 Lockdown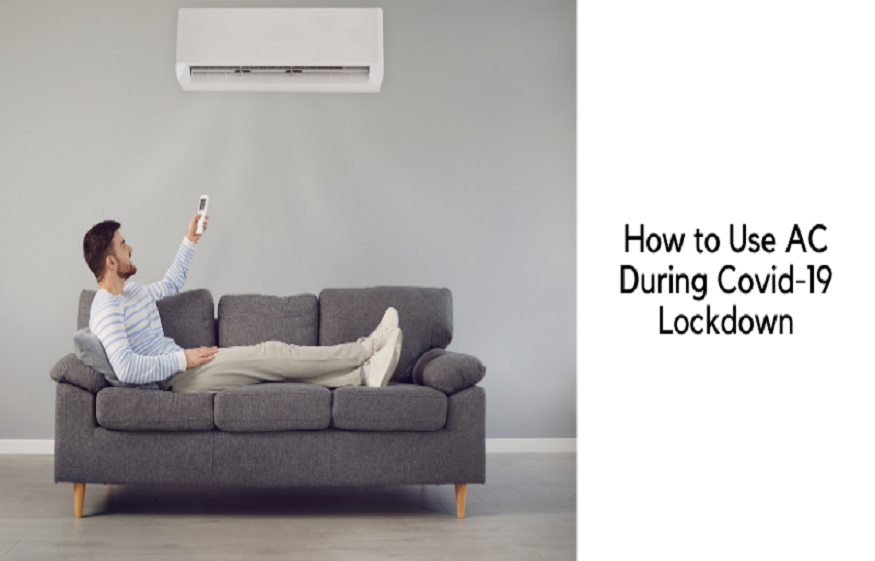 Need for AC in various areas
Irrespective of the terrain, Indian tropical and subtropical regions need properly air-conditioned rooms for various reasons. As a result of global warming, it is becoming difficult to survive in extreme weather conditions. Eco-friendly ACs, which were once out of reach of an average Indian, are becoming mainstream. The hot and sultry weather outside compels individuals to stay at home.
During the lockdown, many types of research were conducted to find out if AC plays an active role in spreading Covid-19 or not. However, the results show that the main reason for the infection is droplet transmission that spreads through coughing and sneezing without covering our mouths. Therefore, ACs do not have any connection with coronavirus transmission.
Proper Conditioning Requisites
The AC maintains the right level of moisture and temperature alongside improving air quality. The three main functions of an Air Conditioner are:
Ventilation– According to health organizations, poor ventilation can induce aerosol formation. The droplets, whether small or large, should not get accumulated in enclosed spaces. The Heating, Ventilation and Air-conditioning (HVAC) systems are key factors of maintaining air quality. Accordingly, it helps to reduce short-range transmission between people living in the same room rather than spreading the disease to distant locations. Inadequate fresh air supply may lead to the buildup of Covid-19 particles.
Air Circulation– Along with ventilation, one more issue that needs attention is air circulation and re-circulation. When an AC recirculates the air, it reduces the air quality by preventing fresh air from entering the rooms. The non-ducted heating units like fan-coils and split units should be maintained and cleaned regularly. Many studies also show how the opening of windows can aid in cross-ventilation, which is necessary to increase air change and the amount of outdoor air coming in.
Air Conditioning- Alongside regulating the temperature, the ACs can also act as air purifiers and dehumidifiers. It has been seen that at places where humidity levels are low, the droplets can evaporate in size and travel longer distances. As far as room ACs are concerned, there is no proof of transmission of the virus through them. However, centralized AC systems need to be maintained appropriately, and their filters should be cleaned regularly to avoid risks.
Statement of health organizations and other guidelines
The World Health Organisation states that it is safe to use ACs during the pandemic, with a few additional precautions. Based on the statement of WHO, the following guidelines were assembled by the Indian Society of Heating Refrigerating and Air Conditioner Engineers (ISHRAE) and made public by the Central Public Works Department (CPWD):-
The temperature of rooms should be set between 24 and 30 degrees Celcius. For humid regions, the temperature should be close to 24 degrees, and for dry regions, it should be close to 30 degrees.
The level of relative humidity in the air should be between 40% and 70%. Too much humidity can lead to higher levels of dust mites and fungi, which can lead to allergy and other respiratory diseases.
ACs should operate in the presence of fresh air from slightly-opened windows. Ceiling fans and exhaust fans should also be switched on to allow air circulation and exfiltration.
The filters and ducts should be regularly cleaned. The AC users should also make arrangements for adequate ventilation of rooms.
Features of Sanyo AC
Confined spaces may enable the transmission of the virus. Thus, while at home, it is required to have the air conditioning alongside proper ventilation and air circulation of the room. The Split Air Conditioners by Sanyo can provide the desired humidity and air circulation.
 Sanyo ACs are designed for releasing cleaner, healthier air. The 5-star inverter ACs have built-in PM 2.5 and anti-dust filters that help remove dust, pollen and other suspended particles. It is advised to stay in a properly ventilated and dust-free home to save ourselves and others from the deadly virus.